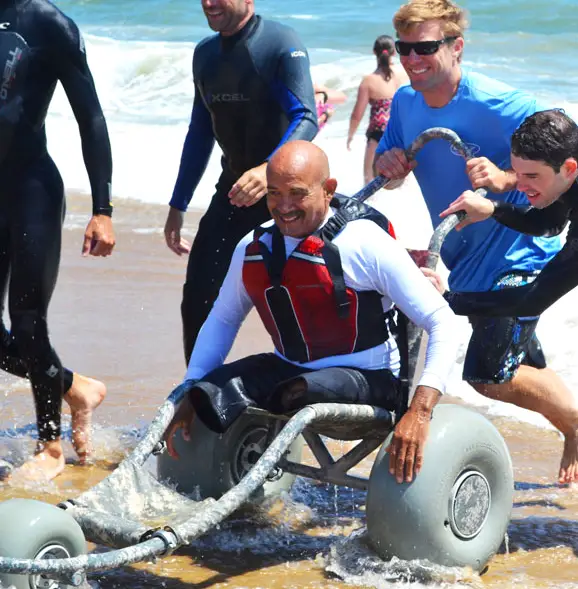 About the Sand Rider Beach Wheelchair
Beach wheelchairs are an incredible asset to wheelchair-bound individuals seeking independence. Bill Fertig, a paraplegic and the founder of Sand Rider, knows this fact firsthand. After a motorcycle accident left him without the use of the lower half of his body, Fertig found himself needing more help than ever. The feeling of relying on others to move around, especially after an incredible career as a police officer, was a challenge. He soon adapted to life controlled by his arms, exploring a new independence with his wheelchair, becoming a competitive hand-cycle athlete, and driving his car using various hand controls. However, his independence would soon be challenged during a beach vacation.
Fertig and his family wheeled down to the beach, using an outdated and cumbersome beach wheelchair, not expecting the experience to be extremely difficult, uncomfortable and unpleasant. Rather than become a burden for his family, Fertig chose to stay behind, missing out on the family fun and the beautiful weather to avoid using the sand wheelchair. He and his son Chris knew, at that moment, that something needed to change.
Sand Rider, the ultimate beach wheelchair, would be the solution. Fertig and Chris, an engineer and two time world record holder for the fastest speed boat run from New York to Bermuda, put their heart and soul into the new and improved beach wheelchair. Its lightweight and rigid frame, along with its oversized tires, allow users to glide over deep sands and navigate obstacles with ease.
This new kind of independence gave sand wheelchair users, like Fertig, the opportunity to be actively involved in beach activities such as digging for clams in tidal areas, shell collecting on barrier islands, and exploring the beaches of the world without hesitation. The Sand Rider can be easily checked as luggage in its special roller duffle bag, or broken down into three parts, without tools, for easy transportation. The Sand Rider is a game-changing, expertly designed beach wheelchair, and is guaranteed to encourage independence and endless summer family fun.

Stylish Beach Wheelchairs
Sand Beach Wheelchair
Silver frame with blue fabric
Sand Beach Wheelchair
Pink frame with grey fabric
Sand Beach Wheelchair
Blue frame with grey fabric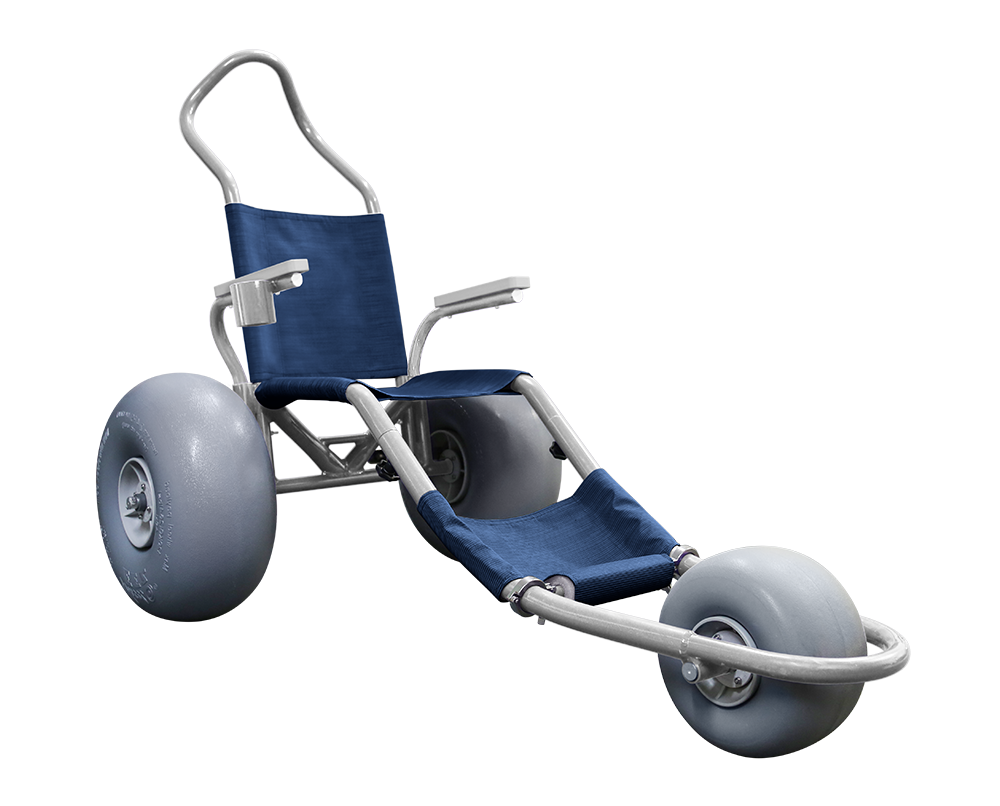 Sand Rider Beach Wheelchairs
Sand Rider Beach Wheelchairs are light, durable and easy to push. It perform equally well on grass, gravel, snow, and pavement. Build a custom Sand Rider beach wheelchair to fit your lifestyle.  Silver frame, blue upholstery, cupholder, and parking brake
Cupholder: holds beverage cups of 3" diameter or less or fishing rods and umbrellas with diameters of 1" or less. Installed on the right side unless requested on the left.
Parking brake: stainless steel hub brake can be applied by either user or assistant. Keep Sand Rider in place for secure transfers and while relaxing on sloped beaches or grassy hills.
Sand Rider Balloon Wheel®
Sand Rider Polyurethane Beach Wheels are the perfect choice for your beach adventures. Made entirely in the USA, these wheels are comparable to the Wheeleez model WZ1-49UC,19.3" or 49 CM polyurethane wheels and can be used as a one-for-one replacement.
Axle Sizes: Available in 1/2 inch, 3/4 inch, and 1 inch, ensuring compatibility with a range of beach equipment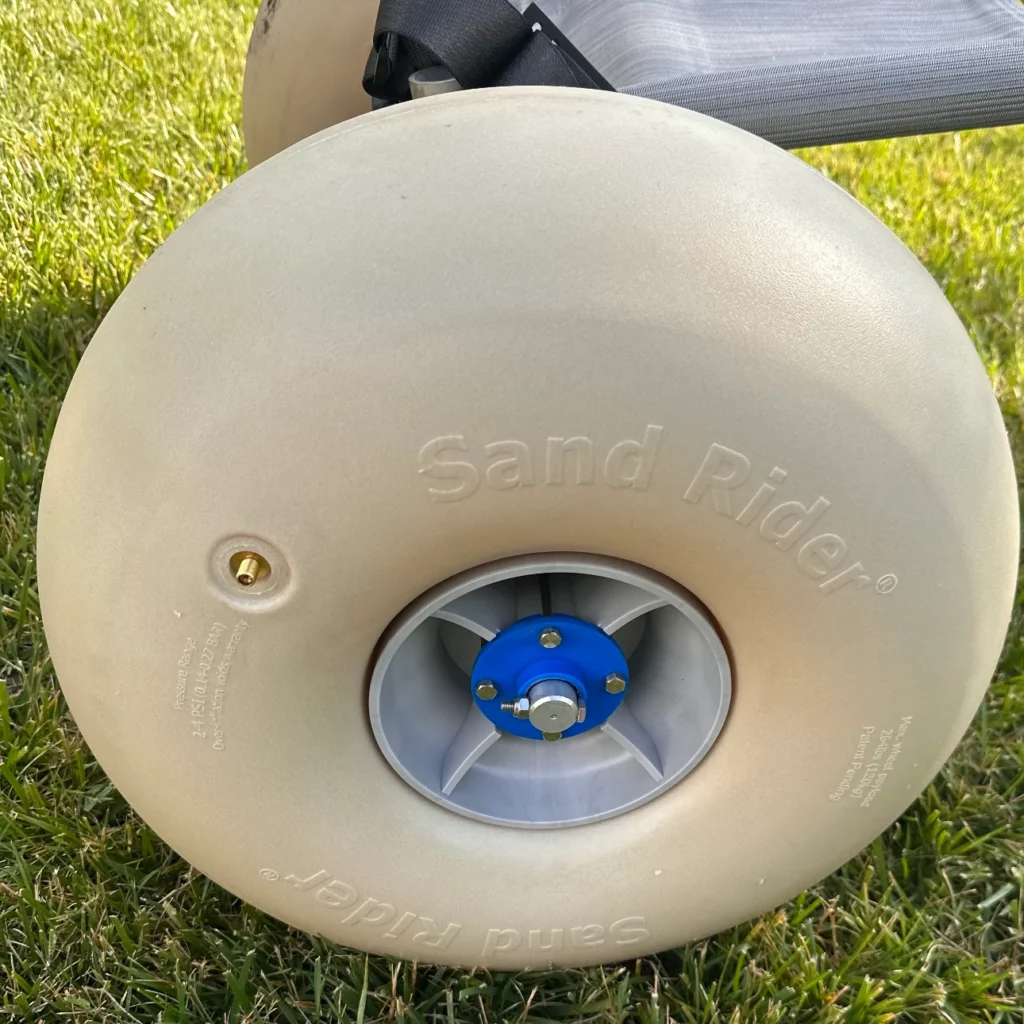 Why Sand Rider Beach Wheelchairs?
The Sand Rider is an expertly designed beach wheelchair. It was created with the user in mind and features a lightweight, easy to disassemble frame that is perfect for traveling. At a total weight of 50 pounds, and with an adjustable foot-rest, it Is the lightest sand wheelchair on the market. The Sand Rider makes navigating deep sands and beach obstacles an ease, and allows the user to experience the beach like never before. The frame and seat are completely customizable, expanding creativity and adding an extra level of fun. It's easy to see why the Sand Rider is the ideal choice for those seeking a beach wheelchair
Please submit info and we will get back to you within 24 hours.
The Benefits of Being Outdoors
Beach wheelchairs give users the opportunity to experience more of the outdoors than ever before. Being in nature has a countless number of benefits and can offer a significant health boost. The outdoors can reduce blood pressure and stress, improve sleep, increase happiness levels, boost Vitamin D levels in the body, and provide a wide variety of additional benefits. Thanks to sand wheelchairs, like the Sand Rider, these benefits are more widely available for wheelchair users than ever before.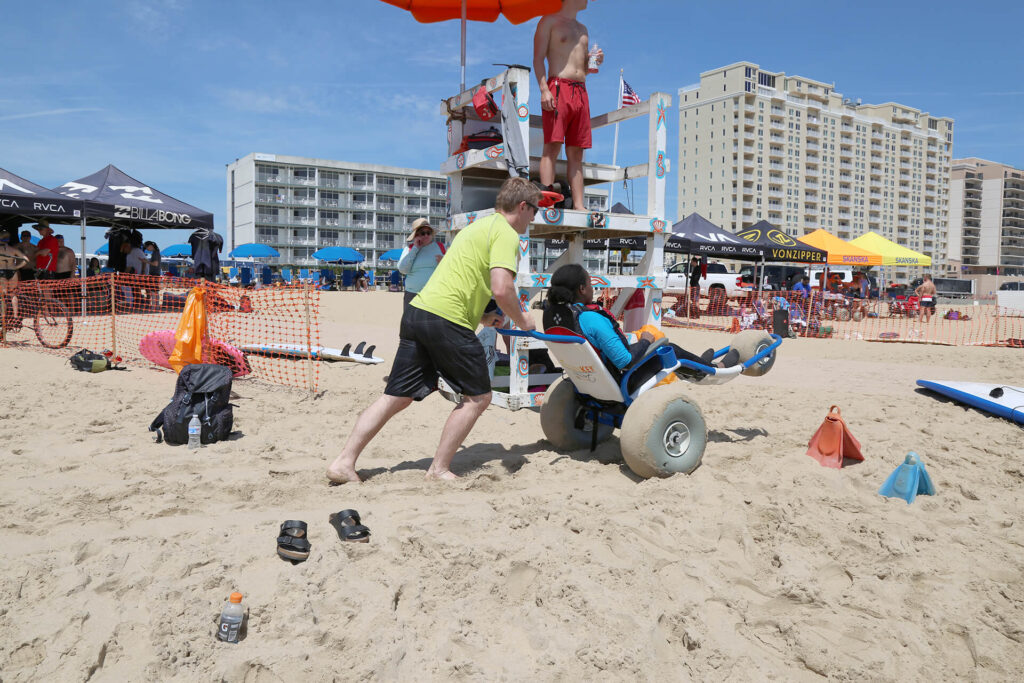 Financing available in US & CA
Rates as low as 0%​